Resource Manager - Litigation
Employer

Location

London (Central), London (Greater)

Salary

Competitive

Closing date

12 Jan 2024
View more
Vacancy Type

Contract Type

Experience Level

Role Classification
Job Details
Job description
We currently have an opportunity for a Resource Manager to join our Litigation practice to play an important role in implementing and supporting the delivery of work allocation, helping to provide operational excellence. The Resource Manager will assist the firm in being more agile and providing the right people on the right matters at the right time.
You will be responsible for the day to day deployment of lawyers to matters, balancing the needs of the business with the needs of the individual. You will have an important role in talent management and liaising with the HR and leadership teams, to discuss individual performance and development. You will also be involved in a range of projects that are designed to improve the efficiency and agility of the firm.
The Resource Manager will report directly to the COO . This is an exciting opportunity for somebody to bring their experience and expertise and apply it within a firm where the work allocation function is rapidly growing.
Role and responsibilities
Leading the implementation of the work allocation process across the group, including conducting one-to-one consultations with all Partners and Associates.
Building and proactively maintaining the associated tools required to run the work allocation process
Updating capacity information and monitoring utilisation for all fee earners in the region on a weekly basis and maintaining ad-hoc updates. Highlighting potential under/over utilisation to the practice group.
Deployment of resource to matters, balancing commercial and individual needs - optimising work allocation to alleviate high/low utilisation, increase mobility and agility and meet individual preferences and development goals.
Championing the use of alternative resources including utilising support at other offices or our Advance Delivery & Solutions offerings such as Advanced Delivery Legal, Peerpoint, Project Management, A&O Consulting and Legal Technology.
Maintaining information on staff movements between offices, monitoring of joiners, leavers, maternity etc. and holiday tracking.
Building relationships with, and acting as a trusted advisor to, the lawyers and understanding client requirements and the wider needs of the business, in order to facilitate effective resourcing decisions.
Challenging requests and dealing with potential resource escalations, making decisions on conflicting demands as required.
Data analysis and reporting of forecasted capacity, utilisation, resource availability, and skill sets.
Leading resource management projects and initiatives.
Creating a skills matrix for each new joiner and updating every 6 months
Liaising with Helen Lightfoot, the Advanced Delivery Practice Lead, weekly to have an understanding of capacity, as well as building relationships across the network to allow sharing of capacity across global offices.
Attending and regularly presenting at Team and Partner meetings to provide updates on work allocation.
Visiting other offices as appropriate, to allow relationship building and aid forward planning.
Key requirements
The ideal candidate will have proven experience within a work allocation/resource management role or similar, and ideally have experience of working in a professional services or large litigation environment. They could also be a lawyer looking for a change of career direction.
Knowledge and Skills
Understands the team needs and priorities for resourcing.
Understands the financial implications of the resourcing decisions made.
Leads large scale or complex resource allocations liaising with international offices and Advanced Delivery teams as appropriate.
Commercial and risk focussed with good operational business acumen - the ability to exercise good judgment, knowing when to flag issues and when to deal with them independently.
Anticipates resourcing issues and provides solutions ahead of time.
Ability to influence resource management through presentation of information that is timely and informative.
The ability to work under pressure and deliver quality outputs, to tight deadlines, and to communicate competing demands effectively.
Excellent project management and organisational skills and the ability to prioritise and manage both the workload of themselves and the team within which they operate.
Stakeholder Management
Excellent relationship management and communication skills.
Become a trusted advisor and point of contact on resourcing matters. Influencing key stakeholders on resource selection and strategic solutions to achieve maximum utilisation and effective skills mix on matters.
Be able to build strong working relationships with both the partner group and lawyers (those being deployed as well as those requesting resources) in order to understand their requirements by being well integrated within the offices.
Be able to consult with a wide range of stakeholders at different levels to understand their needs and wants.
Respond with empathy and understanding to enhance relationships.
Be resilient to deal with challenges from people within the business, with good interpersonal and strong influencing skills
Experience of conflict resolution, with the ability to manage complex conflicts between numerous parties, drawing on robust negotiation skills to resolve them.
Be able to actively manage expectations and escalate issues where necessary.
Technical Expertise
Strong IT skills – experience of working with resource management planning software would be advantageous.
Good Excel skills – experience of working with large volumes of data in Excel and being able to manipulate this to enable effective decision-making.
Ability to use all technology and established tools effectively.
Producing, using and analysing management information to make resourcing decisions and recommendations to senior stakeholders
You can find out more about our Litigation practice here.
Should you require additional support at any stage of the recruitment process due to a disability or a health condition, please do not hesitate to contact a member of Allen & Overy's recruitment team who will work with you to provide any reasonable adjustments as required.
We are an equal opportunities recruiter and do not discriminate on the basis of race, colour, sex, religion, sexual orientation, national origin, disability, or any other protected characteristic.
At Allen & Overy, we recognise that our people are our most valuable asset, which is reflected in the wide range of benefits that are available to our employees. Some of these benefits include: our occupational pension scheme, group income protection cover, private medical insurance, mental health resources and free apps, health and wellbeing services encompassing an onsite gym, wellbeing centre and GP service, emergency back-up care support, parental and special leave, holiday entitlement increasing with length of service, holiday trading, season ticket loans and online discounts and lifestyle management services.
Allen & Overy recognises the value of flexible working and embraces hybrid working, allowing our people to work from home up to 40% of their working time. We do however remain committed to working together in person for the remaining 60% of time so that we can learn, grow and succeed together. If you would like additional flexibility we will of course consider this in line with business needs.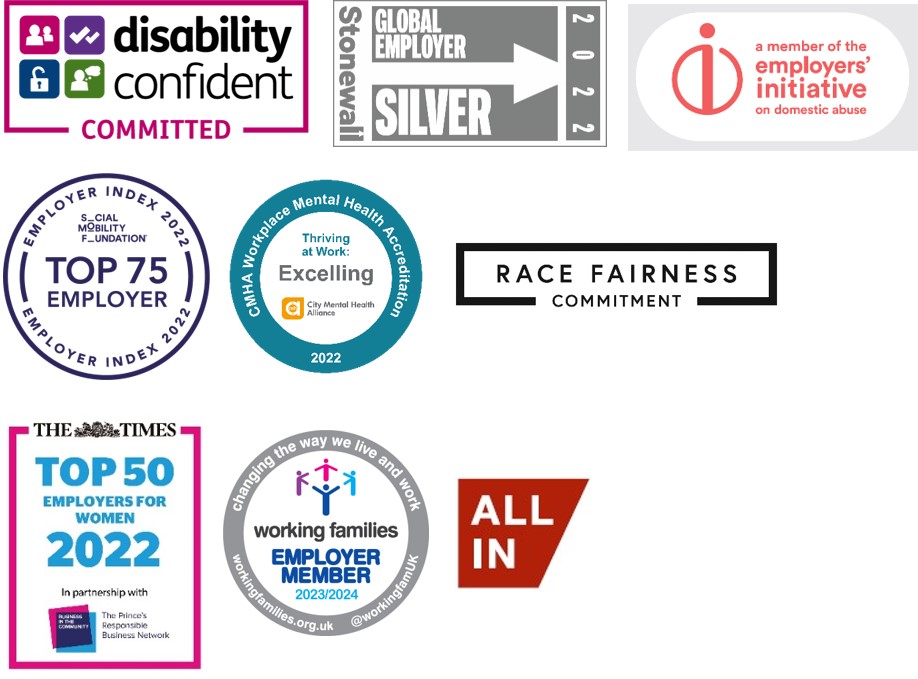 Allen & Overy is a leading global law firm operating in over thirty countries. We work on some of the most challenging and important deals and have built a reputation for delivering exceptional legal solutions that help our clients grow, innovate and thrive. The legal industry is changing, and we're committed to leading that change, putting our people first, embracing new ways of thinking and integrating technology into our everyday work. Our business teams work hand-in-hand with our lawyers, Consultants and other specialist teams, and are ambitious, driven and leaders in their field.
With us, you will constantly be learning and growing. We invest in you by offering exceptional professional and personal development – providing training, mentoring and practical support. We offer rewarding careers that are built around your strengths and designed to ensure you can achieve your personal and professional goals, recognising that those may look different for everyone.
We have a powerful commitment to diversity, equity and inclusion. We're determined to play our part in advancing a workplace where progress is made by harnessing our differences – whatever defines you, we ask you to bring your whole self to work.
What truly defines a career at Allen & Overy? We recruit the best and ask for the best of you. We provide challenge, support and a place for you to belong. And together we excel, working on meaningful projects of global significance.
Company
With over 5,600 people in over 40 offices, Allen & Overy is a business doing work of global significance.
Our success is built on the work of talented and motivated people who thrive in a supportive and collaborative environment, dedicated to delivering an exceptional standard of work for our clients. We're ambitious and forward-thinking, committed to growing our business and meeting the future head-on. We're not afraid of change, and we believe in challenging the status quo.
What we do goes beyond delivering an outstanding service. We lead the market by creating new solutions for our clients' most complex legal and business challenges, helping them grow, innovate and thrive. By thinking creatively and entrepreneurially, we challenge expectations, push boundaries and build for the future. We draw on a world-leading network of expertise and a unique platform – such as our Advanced Delivery services and our network of Peerpoint consultants, to set the highest standards for our industry.
Global coverage in today's market does not simply mean having offices in important cities around the world. For us, it means combining our global resources and sector expertise to work on matters that cross international boundaries with our culturally and geographically diverse teams. For you, it means that wherever you work, you'll find a culture of inclusion and support – feeling confident to bring your whole self to work every single day. We have developed a culture in which difference is positively valued, and our people are free to be themselves. At A&O, you're not only valued for what you do, but for who you are.
We are in every sense one global team; supportive and collaborative, but also ambitious and driven. Our capacity to combine these qualities and provide a setting in which our people can thrive is what makes us different.
Company info
Website

Telephone

+44 (0) 20 3088 0000

Location

One Bishops Square


London




E1 6AD




GB
Get job alerts
Create a job alert and receive personalised job recommendations straight to your inbox.
Create alert