Trade & Sanctions Associate
Employer

Location

London (Central), London (Greater)

Salary

Competitive

Closing date

21 Nov 2023
View more
Vacancy Type

Contract Type

Practice Area

Experience Level

Role Classification
Job Details
Job description
Allen & Overy's International Trade & Sanctions law team is one of the leading practice in this area. The team undertake a broad mix of work in the following key areas:
UK and EU Sanctions compliance advice
Sanctions and trade law support across a broad range of corporate, finance and real estate transactions
Export controls
Anti-bribery law
Anti-money laundering/CTF law
FDI
International public law
Trade/WTO law
Operational compliance advice
The team has a stellar reputation for advising clients on the most sophisticated and cutting edge legal issues. They offer a truly integrated and multijurisdictional regulatory law service to help their global and local client bases effectively manage their compliance risks/liabilities and make the most of commercial opportunities that arise in the fast-moving environmental arena. Clients of the practice include Exxon Mobil, Deutsche Bank, Mubadala, Reckitt, Imperial Brands, Prosus, TUI plc, Haleon and Macquarie.

Key relationships
Partners, Associates and the wider Corporate team
PSLs
Business Development Manager
Wider A&O community
Role and responsibilities
Drafting, reviewing and amending documentation
Providing strategic guidance to clients
Managing client expectations and project delivery appropriately
Business development – development of a personal plan, assistance with and implementation of the business development campaign
Legal research
Key requirements
Qualified lawyer; 4 year and above PQE (high mid-level or senior associate)
Previous experience of sanctions work is essential
Strong technical knowledge of the legal framework surrounding a number of our core areas
Outstanding academic credentials
Intellectual curiosity and versatility
Self-starter with the desire and ability to continuously acquire, build upon and share knowledge
Detail-focused and self-motivated approach
Strong organizational skills, with the ability to manage multiple deadlines
Excellent client relationship skills
Sound experience of operating at associate level within a complex international organisation
Strong commercial/business acumen with the ability to deliver creative and pragmatic solutions and advice
Excellent communication and interpersonal skills, with the ability to interface at all levels and particularly to win the respect of the partner and fee-earner community, building strong relationships with both internal and external stakeholders
Collaborative team player with the ability to develop and work in a fast paced, intellectually rigorous environment
A person of sound judgement, able to establish a high level of credibility
Flexibility
International outlook
Who we are looking for
We are looking for high-quality applicants with strong experience in a number of trade and sanctions matters to join a dynamic team where the quality of work is second to none.
Should you require additional support at any stage of the recruitment process due to a disability or a health condition, please do not hesitate to contact a member of Allen & Overy's recruitment team who will work with you to provide any reasonable adjustments as required.

We are an equal opportunities recruiter and do not discriminate on the basis of race, colour, sex, religion, sexual orientation, national origin, disability, or any other protected characteristic.

At Allen & Overy, we recognise that our people are our most valuable asset, which is reflected in the wide range of benefits that are available to our employees. Some of these benefits include: our occupational pension scheme, group income protection cover, private medical insurance, mental health resources and free apps, health and wellbeing services encompassing an onsite gym, wellbeing centre and GP service, emergency back-up care support, parental and special leave, holiday entitlement increasing with length of service, holiday trading, season ticket loans and online discounts and lifestyle management services.

Allen & Overy recognises the value of flexible working and embraces hybrid working, allowing our people to work from home up to 40% of their working time. We do however remain committed to working together in person for the remaining 60% of time so that we can learn, grow and succeed together. If you would like additional flexibility we will of course consider this in line with business needs.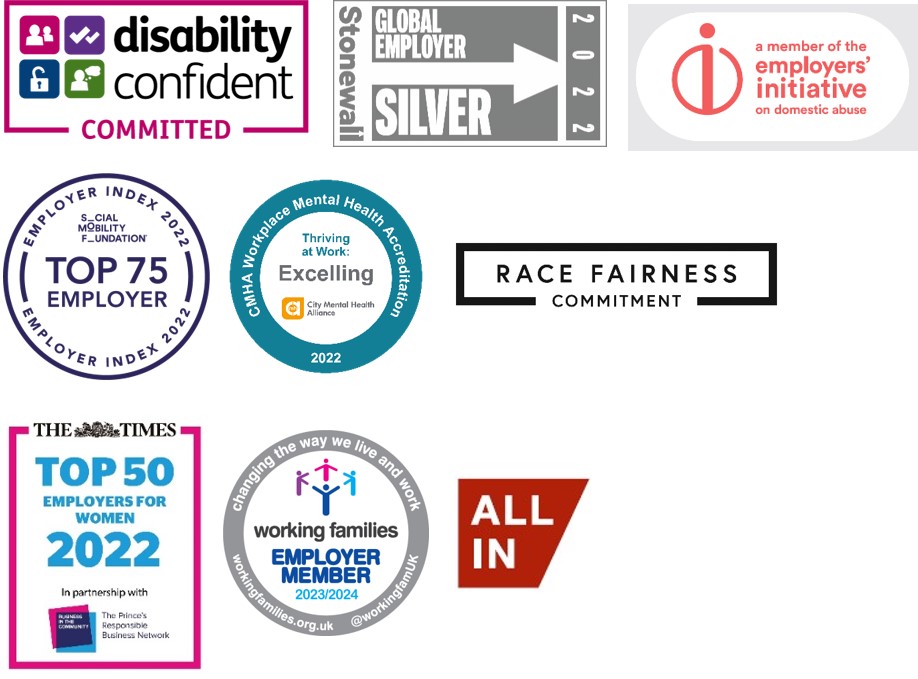 Allen & Overy is a leading global law firm operating in over thirty countries. We work on some of the most challenging and important deals and have built a reputation for delivering exceptional legal solutions that help our clients grow, innovate and thrive. The legal industry is changing, and we're committed to leading that change, putting our people first, embracing new ways of thinking and integrating technology into our everyday work.

Our culture is one of high-performance and we have high expectations of one another, in everything we do. Being a proud team player is essential. We work together, listen and learn from one another and achieve results we could never achieve on our own. When you join our team, you'll become part of a flexible, inclusive environment underpinned by openness and consistent support for one another. At A&O, you're not only valued for what you do, but for who you are.

We have a powerful commitment to diversity, equity and inclusion, and we're working hard to create an environment where you can bring your authentic self to work. We know that to excel, we must nurture an environment where our people feel they belong.
Company
With over 5,600 people in over 40 offices, Allen & Overy is a business doing work of global significance.
Our success is built on the work of talented and motivated people who thrive in a supportive and collaborative environment, dedicated to delivering an exceptional standard of work for our clients. We're ambitious and forward-thinking, committed to growing our business and meeting the future head-on. We're not afraid of change, and we believe in challenging the status quo.
What we do goes beyond delivering an outstanding service. We lead the market by creating new solutions for our clients' most complex legal and business challenges, helping them grow, innovate and thrive. By thinking creatively and entrepreneurially, we challenge expectations, push boundaries and build for the future. We draw on a world-leading network of expertise and a unique platform – such as our Advanced Delivery services and our network of Peerpoint consultants, to set the highest standards for our industry.
Global coverage in today's market does not simply mean having offices in important cities around the world. For us, it means combining our global resources and sector expertise to work on matters that cross international boundaries with our culturally and geographically diverse teams. For you, it means that wherever you work, you'll find a culture of inclusion and support – feeling confident to bring your whole self to work every single day. We have developed a culture in which difference is positively valued, and our people are free to be themselves. At A&O, you're not only valued for what you do, but for who you are.
We are in every sense one global team; supportive and collaborative, but also ambitious and driven. Our capacity to combine these qualities and provide a setting in which our people can thrive is what makes us different.
Company info
Website

Telephone

+44 (0) 20 3088 0000

Location

One Bishops Square


London




E1 6AD




GB
Get job alerts
Create a job alert and receive personalised job recommendations straight to your inbox.
Create alert