Senior In-House Lawyer - Sanctions
Employer

Location

London (Central), London (Greater)

Salary

Competitive

Closing date

21 Nov 2023
View more
Vacancy Type

Contract Type

Experience Level

Role Classification
Job Details
Job description
We are currently recruiting for a Senior In-House Lawyer - Sanctions to join our Business Acceptance Unit in the London or Belfast offices. The Financial Crime & Sanctions team within our Business Acceptance Unit (BAU) supports the firm's ongoing sanctions compliance obligations outside of the business acceptance process and works closely with Allen & Overy's International Trade & Regulatory Law Group in assessing the implications for the business of developments in international sanctions.

The role of the Senior In-House Lawyer is to be a trusted adviser to the business, providing high quality, proactive business-focused support and solutions to colleagues on a variety of "business as usual" and complex regulatory, compliance and professional conduct issues. It requires an individual with the ability to develop strong working relationships in order to be a "go to" and accessible person for queries and concerns about regulation, compliance and conduct from around the world from stakeholders of all levels from business teams and fee-earning, including the Board and Board sub-committees. In addition, the Senior In-House Lawyer will participate in strategic projects and will be part of the horizon-scanning team, inputting into the strategic direction of the firm's regulation in the area of sanctions compliance.

Role and responsibilities
Working closely with, supporting and representing the Head of Financial Crime & Sanctions, including attending regular meetings to provide updates on areas of responsibility.
Identifying, analysing and resolving (or, where appropriate, facilitating resolution of) professional, legal, regulatory and commercial issues in the area of sanctions as they affect Allen & Overy's business, including those which are referred by the BAU analyst and legal teams, by partners and by all other levels of lawyer and support staff.
Performing the role of the firm's internal expert in and senior contact point for sanctions requirements in particular specified jurisdictions, including attending regulatory audit meetings in respect of those jurisdictions where required.
Being a senior contact point for risk teams globally in relation to the BAU team's processes and procedures.
Monitoring changes in practice, professional rules, regulations and the law as affects sanctions globally and escalating any proposed adjustments/enhancements to the Heads of Business Acceptance Unit and Financial Crime & Sanctions for consideration.
Assisting and supporting the Head of Financial Crime & Sanctions in ensuring that firm and BAU policy and procedure in the area of sanctions, meet applicable requirements and that the process is as efficient and streamlined as possible, whilst remaining thorough and rigorous.
Helping to develop and refine internal databases and evaluating external databases of information/services for use in the business acceptance process, particularly technological solutions in the area of sanctions compliance.
Helping in the design of and taking day-to-day responsibility for the management of sanctions projects (e.g. introduction of new technological solutions and processes) and other work-streams (e.g. sanctions matter records sweeps).
Assisting in the design, implementation and delivery of training for the BAU team and fee earners in the areas of sanctions compliance.
Being a senior point of contact for the HR team, including helping to manage the recruitment process in relation to vacancies in the team and conducting regular performance review meetings with the relevant members of the team where requested.
Where requested, representing the BAU in the area of sanctions at cross-departmental and external meetings.
Managing and supervising the process for responding to regulatory audit requests relating to sanctions compliance, including liaising with local risk contacts to ensure the necessary information is available and any post-audit recommendations implemented.
Assisting with sanctions compliance audits commissioned by Allen & Overy.
Managing and supervising the process for ongoing client and matter screening, including helping refine and further develop use of the technology.
Providing regular reports and updates of team workload to BAU team management.
Being flexible in undertaking the above responsibilities and any others so required.
Role requirements
Existing senior level experience of the work and responsibilities of the BAU team, including strong technical experience in the area of sanctions compliance and an ability represent the Head of Financial Crime & Sanctions when they are unavailable.
Commercially and practically minded and able to see the bigger picture when needed.
Ability to analyse facts and complex scenarios thoroughly (and yet quickly), make difficult judgments and to proactively put forward and implement resolutions to problems.
Top-level task management and organisational skills and a proven ability to manage multiple tasks under time pressure.
Strong communicator with a proven ability to motivate others and to communicate positively and effectively with members of senior management, team members, fee earners and support staff.
Willingness to work hard, take day-to-day responsibility for the BAU's key processes and work in the area of sanctions and to stand in for the Head of Financial Crime & Sanctions in this area.
Possessing a "can do" approach with an ability to solve problems and look beyond practical and logistical challenges by suggesting solutions and implementing them.
Strong people management skills and experience with an interest in mentoring.
Enthusiastic, confident and with the ability to be self-sufficient, self-motivated and pro-active.
Should you require additional support at any stage of the recruitment process due to a disability or a health condition, please do not hesitate to contact a member of Allen & Overy's recruitment team who will work with you to provide any reasonable adjustments as required.

We are an equal opportunities recruiter and do not discriminate on the basis of race, colour, sex, religion, sexual orientation, national origin, disability, or any other protected characteristic.

At Allen & Overy, we recognise that our people are our most valuable asset, which is reflected in the wide range of benefits that are available to our employees. Some of these benefits include: our occupational pension scheme, group income protection cover, private medical insurance, mental health resources and free apps, health and wellbeing services encompassing an onsite gym, wellbeing centre and GP service, emergency back-up care support, parental and special leave, holiday entitlement increasing with length of service, holiday trading, season ticket loans and online discounts and lifestyle management services.

Allen & Overy recognises the value of flexible working and embraces hybrid working, allowing our people to work from home up to 40% of their working time. We do however remain committed to working together in person for the remaining 60% of time so that we can learn, grow and succeed together. If you would like additional flexibility we will of course consider this in line with business needs.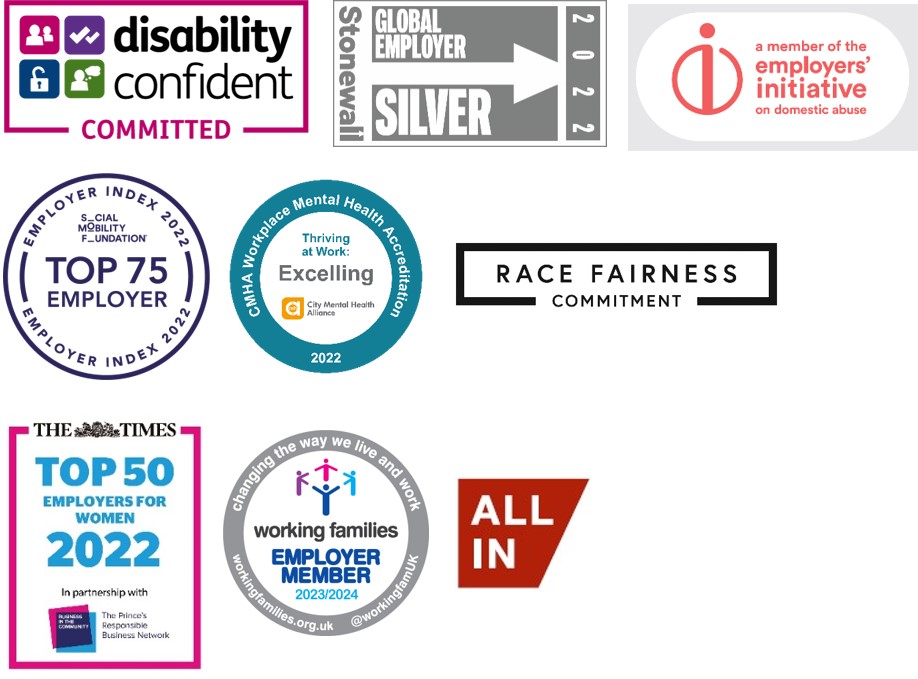 Additional information - External
Allen & Overy is a leading global law firm operating in over thirty countries. We work on some of the most challenging and important deals and have built a reputation for delivering exceptional legal solutions that help our clients grow, innovate and thrive. The legal industry is changing, and we're committed to leading that change, putting our people first, embracing new ways of thinking and integrating technology into our everyday work. Our business teams work hand-in-hand with our lawyers, Consultants and other specialist teams, and are ambitious, driven and leaders in their field.

With us, you will constantly be learning and growing. We invest in you by offering exceptional professional and personal development – providing training, mentoring and practical support. We offer rewarding careers that are built around your strengths and designed to ensure you can achieve your personal and professional goals, recognising that those may look different for everyone.

We have a powerful commitment to diversity, equity and inclusion. We're determined to play our part in advancing a workplace where progress is made by harnessing our differences – whatever defines you, we ask you to bring your whole self to work.

What truly defines a career at Allen & Overy? We recruit the best and ask for the best of you. We provide challenge, support and a place for you to belong. And together we excel, working on meaningful projects of global significance.
Company
With over 5,600 people in over 40 offices, Allen & Overy is a business doing work of global significance.
Our success is built on the work of talented and motivated people who thrive in a supportive and collaborative environment, dedicated to delivering an exceptional standard of work for our clients. We're ambitious and forward-thinking, committed to growing our business and meeting the future head-on. We're not afraid of change, and we believe in challenging the status quo.
What we do goes beyond delivering an outstanding service. We lead the market by creating new solutions for our clients' most complex legal and business challenges, helping them grow, innovate and thrive. By thinking creatively and entrepreneurially, we challenge expectations, push boundaries and build for the future. We draw on a world-leading network of expertise and a unique platform – such as our Advanced Delivery services and our network of Peerpoint consultants, to set the highest standards for our industry.
Global coverage in today's market does not simply mean having offices in important cities around the world. For us, it means combining our global resources and sector expertise to work on matters that cross international boundaries with our culturally and geographically diverse teams. For you, it means that wherever you work, you'll find a culture of inclusion and support – feeling confident to bring your whole self to work every single day. We have developed a culture in which difference is positively valued, and our people are free to be themselves. At A&O, you're not only valued for what you do, but for who you are.
We are in every sense one global team; supportive and collaborative, but also ambitious and driven. Our capacity to combine these qualities and provide a setting in which our people can thrive is what makes us different.
Company info
Website

Telephone

+44 (0) 20 3088 0000

Location

One Bishops Square


London




E1 6AD




GB
Get job alerts
Create a job alert and receive personalised job recommendations straight to your inbox.
Create alert