Finance Data & Information Analyst
Employer

Location

London (Central), London (Greater)

Salary

Competitive

Closing date

30 May 2023
View more
Vacancy Type

Contract Type

Experience Level

Role Classification
Job Details
Job description
We are currently recruiting for a Finance Data & Information Analyst to join our Finance team in the London office. This role will support the delivery of information solutions to the decision makers and Finance clients by:
Investigating and understand data sources through data analysis and interpret findings to the wider group finance team
Troubleshoot data related queries and suggesting remedial action
Maintaining data governance best practice and promoting use with the wider team
Working alongside other groups in the Finance Systems teams, develop and maintaining reporting solutions required by the business
Partnering with other data professionals within A&O to deliver enhanced data integration and reporting capability within the organisation
Role and responsibilities
Data Analysis
Develop operational knowledge of Finance and other systems to understand the data transformation used by management and financial reporting
Support and advise on reporting data related queries that originate from within the Finance System Team
Work on projects with others such as Finance Systems Technical Architect to streamline and rationalise the Finance data architecture
Collaborate with IT colleagues on enterprise data sharing initiatives and prepare data analytics when required
Work on projects that involve sharing or use of Finance data with external third parties, such as SaaS providers
Understand the appropriate data security principles and ensure they are applied to Finance data, whether delivered in Finance-managed systems or not
Data Governance
Attend the Data Quality Assurance group, with input from across Finance Systems team, and help implement recommendations
Contribute and help to maintain Data Dictionary documentation
Information Generation
Cooperate with Business Analysts and other related teams to support the creation of new data sources and attributes
Develop and modify financial reports using Microsoft BI stack, including Microsoft SQL Server Reporting Services
Unit test and debug work product as required
Document delivered solutions throughout the process, including data analysis, system applications and user interface requirements
Maintain a good knowledge of current data analytic tools and products
Key requirements
Strong SQL skills essential
Ability to build SQL scripts and/or stored procedures within Microsoft SQL Server environment used by the reporting tools
Experience of end-to-end delivery of BI report solutions
A creative and experimental approach to report delivery
Proven track record of working with a data governance model
Useful, but not essential, to have worked with finance data
Technical writing experience, including ability to prepare clear data specifications and supporting administration guides
Ability to convey data delivery methodology other team members
Good interpersonal and communication skills to facilitate gathering and interpreting requirements from an international team
Flexibility to handle multiple projects simultaneously and manage own work load on a day-to-day basis
Willingness to collaborate with others to achieve success as a team
Basic understanding of the key financial drivers of a professional services organisation
Initiative and desire to get the job done to a high standard
Should you require additional support at any stage of the recruitment process due to a disability or a health condition, please do not hesitate to contact a member of Allen & Overy's recruitment team who will work with you to provide any reasonable adjustments as required.

We are an equal opportunities recruiter and do not discriminate on the basis of race, colour, sex, religion, sexual orientation, national origin, disability, or any other protected characteristic

At Allen & Overy, we recognise that our people are our most valuable asset, which is reflected in the wide range of benefits that are available to our employees. Some of these benefits include: our occupational pension scheme, group income protection cover, private medical insurance, mental health resources and free apps, health and wellbeing services encompassing an onsite gym, wellbeing centre and GP service, emergency back-up care support, parental and special leave, holiday entitlement increasing with length of service, holiday trading, season ticket loans and online discounts and lifestyle management services.

Allen & Overy recognises the value of flexible working and embraces hybrid working, allowing our people to work from home up to 40% of their working time. We do however remain committed to working together in person for the remaining 60% of time so that we can learn, grow and succeed together. If you would like additional flexibility we will of course consider this in line with business needs.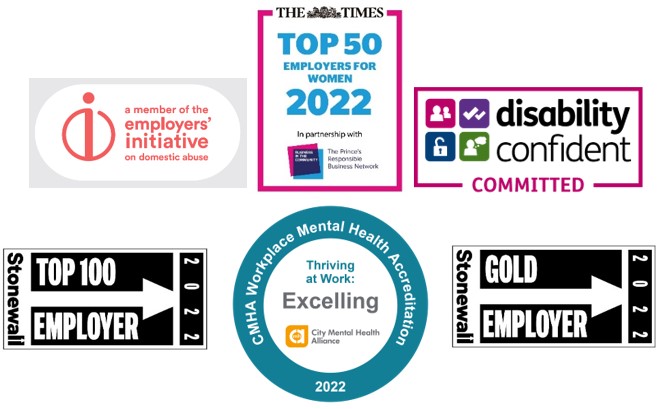 Additional information - External
Allen & Overy is a leading global law firm operating in over thirty countries. We work on some of the most challenging and important deals and have built a reputation for delivering exceptional legal solutions that help our clients grow, innovate and thrive. The legal industry is changing, and we're committed to leading that change, putting our people first, embracing new ways of thinking and integrating technology into our everyday work. Our business teams work hand-in-hand with our lawyers, Consultants and other specialist teams, and are ambitious, driven and leaders in their field.

With us, you will constantly be learning and growing. We invest in you by offering exceptional professional and personal development – providing training, mentoring and practical support. We offer rewarding careers that are built around your strengths and designed to ensure you can achieve your personal and professional goals, recognising that those may look different for everyone.

We have a powerful commitment to diversity, equity and inclusion. We're determined to play our part in advancing a workplace where progress is made by harnessing our differences – whatever defines you, we ask you to bring your whole self to work.

What truly defines a career at Allen & Overy? We recruit the best and ask for the best of you. We provide challenge, support and a place for you to belong. And together we excel, working on meaningful projects of global significance.
Company
With over 5,600 people in over 40 offices, Allen & Overy is a business doing work of global significance.
Our success is built on the work of talented and motivated people who thrive in a supportive and collaborative environment, dedicated to delivering an exceptional standard of work for our clients. We're ambitious and forward-thinking, committed to growing our business and meeting the future head-on. We're not afraid of change, and we believe in challenging the status quo.
What we do goes beyond delivering an outstanding service. We lead the market by creating new solutions for our clients' most complex legal and business challenges, helping them grow, innovate and thrive. By thinking creatively and entrepreneurially, we challenge expectations, push boundaries and build for the future. We draw on a world-leading network of expertise and a unique platform – such as our Advanced Delivery services and our network of Peerpoint consultants, to set the highest standards for our industry.
Global coverage in today's market does not simply mean having offices in important cities around the world. For us, it means combining our global resources and sector expertise to work on matters that cross international boundaries with our culturally and geographically diverse teams. For you, it means that wherever you work, you'll find a culture of inclusion and support – feeling confident to bring your whole self to work every single day. We have developed a culture in which difference is positively valued, and our people are free to be themselves. At A&O, you're not only valued for what you do, but for who you are.
We are in every sense one global team; supportive and collaborative, but also ambitious and driven. Our capacity to combine these qualities and provide a setting in which our people can thrive is what makes us different.
Find Us
Website

Telephone

+44 (0) 20 3088 0000

Location

One Bishops Square


London




E1 6AD




GB
Get job alerts
Create a job alert and receive personalised job recommendations straight to your inbox.
Create alert