BD Manager - Advanced Delivery & Solutions
Employer

Location

London (Central), London (Greater)

Salary

Competitive

Closing date

14 Jul 2023
View more
Vacancy Type

Contract Type

Experience Level

Role Classification
Job Details
Job description
We are currently recruiting for a BD Manager (Advanced Delivery & Solutions) to join our Marketing department on a permanent basis.

Department purpose

Our marketing, business development and communications teams contribute to the setting and achievement of the firm's business objectives, which includes supporting our legal and consulting teams in their pursuit of becoming our clients' trusted advisers, building and maintaining long-lasting, deep institutional client relationships, winning new clients, increasing the visibility of the firm globally, and positioning the firm as the thought leader and most advanced among the global elite law firms. The function works as one team across the globe with very close collaboration between the central groups – such as Communications – and professionals supporting offices, practice groups, sectors and clients.

Role purpose

This role will provide business development (BD) support to our Advanced Delivery & Solutions (AD&S) businesses, which comprise a range of alternative resourcing, technology, consultancy and project management specialists. They represent a strategic priority for the firm globally. This role is an exciting opportunity to work across this fast-developing area at a time of industry change, helping to embed AD&S across the firm globally, pursue new business opportunities and shape client propositions in this evolving area.

Responsibilities will include: Developing and driving forwards integrated marketing and BD campaigns to take new AD&S services to market; working with AD&S Heads and relationship teams to ensure that relevant AD&S offerings are tightly integrated into the firm's client strategy and programmes; leading on AD&S-originated pitches as well as contributing AD&S insight and propositions into firmwide pitches; market and client research; and developing a comprehensive library of collateral to support local BD efforts.

Key relationships
Head of Business Development, AD&S and wider AD&S BD and Marketing team
Heads of AD&S business lines and specialists within AD&S teams
Peers across the wider business development, marketing and communications team
Role and responsibilities
Client development – Drive forward AD&S targeting across the firm's key client programmes, assisting relationship teams in using AD&S as a differentiator in their client strategy as well as generating and pursuing leads for new AD&S solutions and products. The ability to recognise each market's needs and produce bespoke AD&S messaging and collateral that responds to that will be key.
Internal engagement – Close integration with our legal and BD teams is at the heart of the firm's AD&S strategy. The BD Manager will assist office, practice and sector teams to communicate AD&S strategy and opportunities locally through planning and delivering messaging and content for internal and client events as well as driving forwards new business opportunities arising out of such initiatives.
BD planning – Develop, deliver and assess the success of business development and marketing plans for specific AD&S offerings or launches.
Act as an internal consultant - to AD&S leaders on marketing, communications and business development. This will require the development of strong personal relationships with AD&S teams across the globe to facilitate the delivery of global projects.
Campaign management – Work with AD&S Heads, relationship and communications teams to develop and execute the BD/CRM elements of integrated marketing and business development campaigns including planning roundtables and client briefings to generate new business opportunities and raise our market profile.
Market insight – Working with our Research team to oversee a flow of market/client intelligence to AD&S teams, partners and associates.
Proposals/bids – Take the lead on AD&S proposals, credentials and presentations, including: competitor analysis, developing value propositions, proposal writing and management, and debriefs. In parallel, develop compelling collateral to enable teams to better articulate the AD&S proposition as relevant to their market, including case studies. Seek internal and client debriefs, track proposal outcomes and identify market trends. As AD&S is an evolving area, crafting winning propositions and articulating how AD&S adds value will require strong interpersonal and listening skills to draw out key challenges and liaison with AD&S experts to articulate a tailored solution and its benefits.
Key requirements
Strong, broad business development and marketing planning experience with a track record of developing and driving plans/campaigns forward to generate new business opportunities and assiduously tracking ROI.
Excellent relationship building skills, at all levels of seniority, with the ability to build networks, recognise challenges, influence and shape solutions.
A familiarity of working in a professional services, partnership and/or highly matrixed B2B organisation, including direct liaison with senior management.
Excellent communication skills – a flair for writing and strong oral presentation skills.
Organised and highly attentive to detail: The ability to plan ahead, multi-task, manage and track progress across multiple projects whilst not losing sight of business as usual.
Dedication to developing an in-depth appreciation of our evolving global AD&S offering and the wider market.
A professional, proactive, creative and enthusiastic approach to all work and interactions.
Who we are looking for

A proactive and commercial individual with a proven track record in developing new business, driven to work in a high performance business development team at a global law firm where commercial insight, developing strong personal relationships and achieving tangible results are valued and recognised.

Should you require additional support at any stage of the recruitment process due to a disability or a health condition, please do not hesitate to contact a member of Allen & Overy's recruitment team who will work with you to provide any reasonable adjustments as required.

At Allen & Overy, we recognise that our people are our most valuable asset, which is reflected in the wide range of benefits that are available to our employees. Some of these benefits include: our occupational pension scheme, group income protection cover, private medical insurance, mental health resources and free apps, health and wellbeing services encompassing an onsite gym, wellbeing centre and GP service, emergency back-up care support, parental and special leave, holiday entitlement increasing with length of service, holiday trading, season ticket loans and online discounts and lifestyle management services.

Allen & Overy recognises the value of flexible working and embraces hybrid working, allowing our people to work from home up to 40% of their working time. We do however remain committed to working together in person for the remaining 60% of time so that we can learn, grow and succeed together. If you would like additional flexibility we will of course consider this in line with business needs.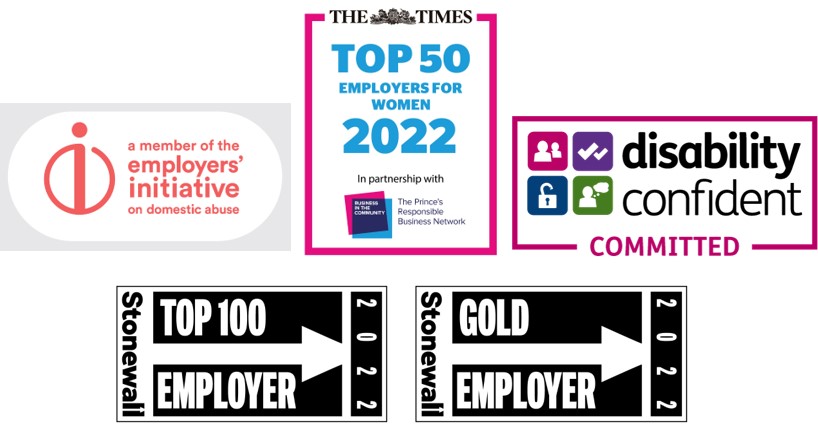 Additional information - External
Allen & Overy is a leading global law firm operating in over thirty countries. By turning our insight, technology and talent into ground-breaking solutions, we've earned our reputation as a firm that leads the industry and opens up new possibilities in law. Our lawyers are leaders in their field – and the same goes for our support teams. Ambitious, driven and open to fresh perspectives, we find new ways to deliver our services and maintain our reputation for excellence, in all that we do.

The nature of law is changing and with that change brings unique opportunities. We are defined by our consistent commitment to creating a collaborative and supportive working culture and investing in your progress. We're committed to supporting a culture that drives diversity and inclusion. Every day, we're working hard to create an environment where you feel you can bring your authentic self to work. To be comfortable and confident to be who you are in the workplace. To feel like you belong. We offer rewarding careers that are built around your strengths and designed to ensure you can achieve your personal and professional ambitions. Joining our global team, you'll discover what collaborating on a global scale really looks like; you'll learn how to help drive change; and you'll be at the heart of an organisation that's defining the future of law. If you're ready to find a place to thrive: It's Time.
Company
With over 5,600 people in over 40 offices, Allen & Overy is a business doing work of global significance.
Our success is built on the work of talented and motivated people who thrive in a supportive and collaborative environment, dedicated to delivering an exceptional standard of work for our clients. We're ambitious and forward-thinking, committed to growing our business and meeting the future head-on. We're not afraid of change, and we believe in challenging the status quo.
What we do goes beyond delivering an outstanding service. We lead the market by creating new solutions for our clients' most complex legal and business challenges, helping them grow, innovate and thrive. By thinking creatively and entrepreneurially, we challenge expectations, push boundaries and build for the future. We draw on a world-leading network of expertise and a unique platform – such as our Advanced Delivery services and our network of Peerpoint consultants, to set the highest standards for our industry.
Global coverage in today's market does not simply mean having offices in important cities around the world. For us, it means combining our global resources and sector expertise to work on matters that cross international boundaries with our culturally and geographically diverse teams. For you, it means that wherever you work, you'll find a culture of inclusion and support – feeling confident to bring your whole self to work every single day. We have developed a culture in which difference is positively valued, and our people are free to be themselves. At A&O, you're not only valued for what you do, but for who you are.
We are in every sense one global team; supportive and collaborative, but also ambitious and driven. Our capacity to combine these qualities and provide a setting in which our people can thrive is what makes us different.
Find Us
Website

Telephone

+44 (0) 20 3088 0000

Location

One Bishops Square


London




E1 6AD




GB
Get job alerts
Create a job alert and receive personalised job recommendations straight to your inbox.
Create alert