Global Team Lead - Events
Employer

Location

London (Central), London (Greater)

Salary

Competitive

Closing date

24 Mar 2023
View more
Vacancy Type

Contract Type

Experience Level

Role Classification
Job Details
Job description
We are currently recruiting for a Global Team Lead - Events to join our Marketing department on a permanent basis.

Department purpose

The central events team is a medium size team of events professionals who are based in Allen & Overy's London office.
The team delivers an end-to-end event management solution for A&O's client and internal events
Individuals have in-depth involvement in the identification and planning phases for event marketing activities
The team makes recommendations, implements best practice globally and provides outstanding event marketing support to the business's client relationship programme
Key relationships
Central Events Team
Chief Marketing and Communications Officer (CMO)
Global Head of Content
Global marketing and communications colleagues
Lawyers
Other business teams: Human Resources, Business Services, Finance
External suppliers: Global hotel chains, production agencies, speaker bureaus etc
What you'll do in this role

Differentiated Client Events
Work alongside the CMO and Global Head of Content to develop a market-leading events strategy, offering inspiration on themes, formats and creative execution that will position us differently
Strengthen our understanding of our client base and what is important to them by obtaining feedback on our events to ensure we are creating an experience which both resonates with our clients and is uniquely A&O
Create a culture of continual improvement, creativity and problem solving, constantly scanning the events landscape to ensure A&O stands out among its peers
Maintain active membership in significant industry organisations and develop relationships at a senior level
Recommend and oversee the implementation of new event technologies
Lead Internal Events
Lead the execution of A&O's signature events, including the firm's bi-annual Global Partner's Conference and managing everything from taking the brief, to on-site delivery, to post-event reconciliation
Operations, Ways of Working and Team Management
Manage the Central Events Team on a day-to-day basis in conjunction with the CMO and key marketing leads, ensuring all members are motivated and delivering best-in-class outputs
Act as an internal consultant to global marketing and communications colleagues across the firm who do not have their own dedicated resource, providing advice and practical support as needed and ensure we are working in a collaborate and multi-disciplinary fashion
Attend and participate in local and global marketing meetings to communicate the team's strategic direction, building relationships with senior counterparts across the business teams
Develop best-practice processes, guidelines and measurement frameworks to ensure a high level of programme consistency, cost management, and stakeholder satisfaction
Support the central events team and colleagues around the world to negotiate supplier contracts
Own the central event marketing budget and calendar of events, providing quantitative and qualitative reports to senior management as required
Ensure compliance with the firm's risk management and other policies
You should apply if you bring
Outstanding communication skills, both written and oral
Experience in selling concepts and presenting to senior stakeholders
Excellent interpersonal and influencing skills
Leadership and judgement – you will be able to make tough decisions and implement them, as well as anticipate future risks and take appropriate action to address them
A track record of developing the careers of your team at all levels
Excellent knowledge of UK/Continental European venues and suppliers as well as global trends in event delivery, including the deployment of virtual event technologies and platforms
A sophisticated approach to knowledge sharing and the ability to learn from others
A strong work ethic and a willingness to travel
Strong knowledge of Microsoft Word, Excel and Outlook and experience of specialist event management software
You will stand out if you bring
Proven experience (minimum of 6-8 years at a senior level) in all areas of event marketing including large scale global events
Excellent project management skills – you will be able to lead significant programmes, delivering on time and within budget
Substantial relevant industry experience, ideally in-house for a cross-border professional services firm or with a client-focused corporate agency
A track record of successfully marketing events to a business audience
An ability to inspire a team to deliver outstanding results, including by changing behaviour
Critical thinking, a focus on continual learning and a drive to find inspiration in unconventional places
Resilience – you will strive to deliver your best in a challenging environment, and will function well under pressure
A meticulous focus on detail and high expectations when it comes to standards of service
Should you require additional support at any stage of the recruitment process due to a disability or a health condition, please do not hesitate to contact a member of Allen & Overy's recruitment team who will work with you to provide any reasonable adjustments as required.

At Allen & Overy, we recognise that our people are our most valuable asset, which is reflected in the wide range of benefits that are available to our employees. Some of these benefits include: our occupational pension scheme, group income protection cover, private medical insurance, mental health resources and free apps, health and wellbeing services encompassing an onsite gym, wellbeing centre and GP service, emergency back-up care support, parental and special leave, holiday entitlement increasing with length of service, holiday trading, season ticket loans and online discounts and lifestyle management services.

Allen & Overy recognises the value of flexible working and embraces hybrid working, allowing our people to work from home up to 40% of their working time. We do however remain committed to working together in person for the remaining 60% of time so that we can learn, grow and succeed together. If you would like additional flexibility we will of course consider this in line with business needs.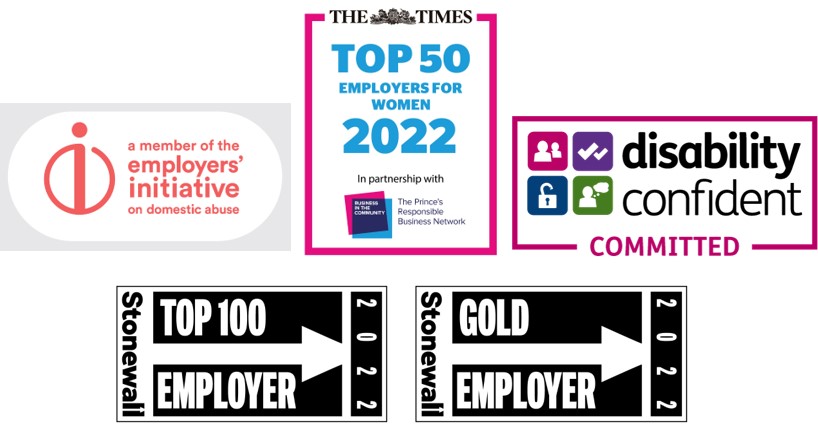 Additional information - External
Allen & Overy is a leading global law firm operating in over thirty countries. By turning our insight, technology and talent into ground-breaking solutions, we've earned our reputation as a firm that leads the industry and opens up new possibilities in law. Our lawyers are leaders in their field – and the same goes for our support teams. Ambitious, driven and open to fresh perspectives, we find new ways to deliver our services and maintain our reputation for excellence, in all that we do.

The nature of law is changing and with that change brings unique opportunities. We are defined by our consistent commitment to creating a collaborative and supportive working culture and investing in your progress. We're committed to supporting a culture that drives diversity and inclusion. Every day, we're working hard to create an environment where you feel you can bring your authentic self to work. To be comfortable and confident to be who you are in the workplace. To feel like you belong. We offer rewarding careers that are built around your strengths and designed to ensure you can achieve your personal and professional ambitions. Joining our global team, you'll discover what collaborating on a global scale really looks like; you'll learn how to help drive change; and you'll be at the heart of an organisation that's defining the future of law. If you're ready to find a place to thrive: It's Time.
Company
With over 5,600 people in over 40 offices, Allen & Overy is a business doing work of global significance.
Our success is built on the work of talented and motivated people who thrive in a supportive and collaborative environment, dedicated to delivering an exceptional standard of work for our clients. We're ambitious and forward-thinking, committed to growing our business and meeting the future head-on. We're not afraid of change, and we believe in challenging the status quo.
What we do goes beyond delivering an outstanding service. We lead the market by creating new solutions for our clients' most complex legal and business challenges, helping them grow, innovate and thrive. By thinking creatively and entrepreneurially, we challenge expectations, push boundaries and build for the future. We draw on a world-leading network of expertise and a unique platform – such as our Advanced Delivery services and our network of Peerpoint consultants, to set the highest standards for our industry.
Global coverage in today's market does not simply mean having offices in important cities around the world. For us, it means combining our global resources and sector expertise to work on matters that cross international boundaries with our culturally and geographically diverse teams. For you, it means that wherever you work, you'll find a culture of inclusion and support – feeling confident to bring your whole self to work every single day. We have developed a culture in which difference is positively valued, and our people are free to be themselves. At A&O, you're not only valued for what you do, but for who you are.
We are in every sense one global team; supportive and collaborative, but also ambitious and driven. Our capacity to combine these qualities and provide a setting in which our people can thrive is what makes us different.
Find Us
Website

Telephone

+44 (0) 20 3088 0000

Location

One Bishops Square


London




E1 6AD




United Kingdom
Get job alerts
Create a job alert and receive personalised job recommendations straight to your inbox.
Create alert