Global Employer Brand Senior Manager
Employer

Location

London (Central), London (Greater)

Salary

Competitive

Closing date

11 Mar 2023
View more
Vacancy Type

Contract Type

Experience Level

Role Classification
Job Details
Job description
We currently have an exciting opportunity for a Global Employer Brand Senior Manager to join our HR team. We would like to receive applications from candidates based globally but have a preference for someone within a UK, European or Middle East time zone.

The Global Employer Brand Senior Manager will be responsible for owning the design and successful activation of our employer brand in all our markets globally. The immediate focus will be on working with our offices to ensure that that our brand is attracting the best talent for our fee earning departments and business teams globally, and that we are delivering an exceptional experience for candidates and new joiners. This will involve collaborating with a wide range of internal colleagues and external vendors to help support our priorities and deliver world-class results. The role holder will also have the opportunity to work on other resourcing projects.

This global role will be highly-visible during a very exciting time for A&O as the firm continues to be at the forefront of innovation within the legal sector. The role holder will bring their experience in Recruiting and employer brand activation to help build global capability.

Role and responsibilities
To work with the Global Head of Resourcing, office Recruiting teams, external vendors and Brand/Marketing/Communications teams to roll out and embed the global employer brand in A&O's offices worldwide. This project is currently underway so the role holder will be expected to take overall leadership for the various project teams and workstreams.
Implement approaches to measure the success and ROI of employer brand campaigns. Develop and execute plans to continuously review and strengthen the brand. This would include a review of our social media strategy, channels and enhancements to our career website.
Utilise insights and data from candidates, new joiners and the external market (including Glassdoor, Indeed, Fishbowl and Vault) to identify opportunities to enhance the candidate/new joiner onboarding experience. Work with offices to prioritise areas for improvement.
As the employer brand subject matter expert, you will always be on the look-out for external best practices and innovative ideas that can be considered for implementation.
Participate in other global projects including the implementation of a market-leading onboarding experience.
Engage with the early careers and experienced hire recruitment teams to understand challenges and identify opportunities for improvement. Work with stakeholders globally to agree project deliverables and outcomes
Establish and manage project teams consisting of internal and external resources to ensure projects are delivered on time and to budget.
Provide fresh-thinking and continue to explore opportunities to innovate, improve global coordination, leading practice sharing and collaboration.
Support decision-making by contributing to external data gathering and generating insights.
Key requirements
The ideal candidate for this role would have:
Experience developing, and deep understanding of, employer brand best practices. The person is likely to be operating at either an experienced Manager or Senior Manager level, and have had experience of building and activating employer brands within a global organisation.
Excellent understanding of recruitment processes and best practices including audience and geographic nuances, probably gained through working as a recruiter or partnering closely with the recruitment function.
Able to bring innovative ideas and practical solutions to the business, and the drive and tenacity to follow through to ensure they are successfully rolled out.
Although it's critical that this person is capable of working independently, they also need to be highly collaborative and team-oriented. They should be skilled at building consensus and helping others make relevant connections.
Relevant project management experience probably gained by working in a Recruitment or employer brand role at a regional or global level.
Consultative mind-set, able to "flex" their style to suit the situation and audience, and able to influence and engage effectively at all levels to get to the right outcome.
A creative and structured thinker with the ability to articulate complex concepts in simple ways.
Excellent organisation and English language verbal/written communication skills.
Confident identifying user needs and developing reference and/or training materials for users.
Confident, tactful and resilient personality as the individual will be expected to interact with professionals at all levels internally and externally.
Keeps abreast of market developments, new tools, approaches, vendors.
Should you require additional support at any stage of the recruitment process due to a disability or a health condition, please do not hesitate to contact a member of Allen & Overy's recruitment team who will work with you to provide any reasonable adjustments as required.

We are an equal opportunities recruiter and do not discriminate on the basis of race, colour, sex, religion, sexual orientation, national origin, disability, or any other protected characteristic

Allen & Overy recognises the value of flexible working and embraces hybrid working, allowing our people to work from home up to 40% of their working time. We do however remain committed to working together in person for the remaining 60% of time so that we can learn, grow and succeed together. If you would like additional flexibility we will of course consider this in line with business needs.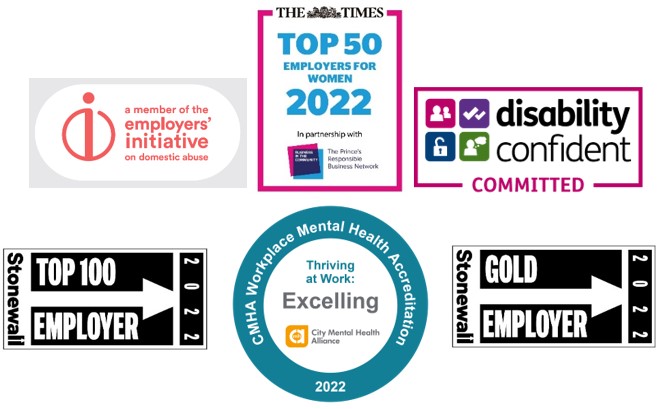 Additional information - External
Allen & Overy is a leading global law firm operating in over thirty countries. We work on some of the most challenging and important deals and have built a reputation for delivering exceptional legal solutions that help our clients grow, innovate and thrive. The legal industry is changing, and we're committed to leading that change, putting our people first, embracing new ways of thinking and integrating technology into our everyday work. Our business teams work hand-in-hand with our lawyers, Consultants and other specialist teams, and are ambitious, driven and leaders in their field.

With us, you will constantly be learning and growing. We invest in you by offering exceptional professional and personal development – providing training, mentoring and practical support. We offer rewarding careers that are built around your strengths and designed to ensure you can achieve your personal and professional goals, recognising that those may look different for everyone.

We have a powerful commitment to diversity, equity and inclusion. We're determined to play our part in advancing a workplace where progress is made by harnessing our differences – whatever defines you, we ask you to bring your whole self to work.

What truly defines a career at Allen & Overy? We recruit the best and ask for the best of you. We provide challenge, support and a place for you to belong. And together we excel, working on meaningful projects of global significance.
Company
With over 5,600 people in over 40 offices, Allen & Overy is a business doing work of global significance.
Our success is built on the work of talented and motivated people who thrive in a supportive and collaborative environment, dedicated to delivering an exceptional standard of work for our clients. We're ambitious and forward-thinking, committed to growing our business and meeting the future head-on. We're not afraid of change, and we believe in challenging the status quo.
What we do goes beyond delivering an outstanding service. We lead the market by creating new solutions for our clients' most complex legal and business challenges, helping them grow, innovate and thrive. By thinking creatively and entrepreneurially, we challenge expectations, push boundaries and build for the future. We draw on a world-leading network of expertise and a unique platform – such as our Advanced Delivery services and our network of Peerpoint consultants, to set the highest standards for our industry.
Global coverage in today's market does not simply mean having offices in important cities around the world. For us, it means combining our global resources and sector expertise to work on matters that cross international boundaries with our culturally and geographically diverse teams. For you, it means that wherever you work, you'll find a culture of inclusion and support – feeling confident to bring your whole self to work every single day. We have developed a culture in which difference is positively valued, and our people are free to be themselves. At A&O, you're not only valued for what you do, but for who you are.
We are in every sense one global team; supportive and collaborative, but also ambitious and driven. Our capacity to combine these qualities and provide a setting in which our people can thrive is what makes us different.
Find Us
Website

Telephone

+44 (0) 20 3088 0000

Location

One Bishops Square


London




E1 6AD




United Kingdom
Get job alerts
Create a job alert and receive personalised job recommendations straight to your inbox.
Create alert