Banking Paralegal 12 month FTC
Employer

Location

London (Central), London (Greater)

Salary

Competitive

Closing date

19 Aug 2022
View more
Vacancy Type

Contract Type

Experience Level

Role Classification
Job Details
Job description
Allen & Overy is a leading global law firm operating in over thirty countries. Embracing new trends and harnessing decades of experience, we've earned our place at the forefront of the legal industry. Our partners are recognised as leaders in their field and our deals and cases often make headline business news. As a result, we've developed a reputation for delivering exceptional legal solutions that not only solve our clients' challenges but exceed their expectations. By embracing new ways of thinking, integrating technology into our everyday work and putting our people first, we've become known for leading by example.

Join our team and you'll be part of a flexible, inclusive culture underpinned by openness and consistent support for one another. Our culture enables people to define their own career path based on their strengths, while our ambitious outlook ensures we continue to provide each person with opportunities to thrive. We're also committed to supporting a culture that drives diversity and inclusion. Every day, we're working hard to create an environment where you feel you can bring your authentic self to work. To be comfortable and confident to be who you are in the workplace. To feel like you belong. If you're ready to play your part in defining the future of law: It's Time.

Department purpose

Our Global Asset Management Group advises asset managers and investment funds on establishing funds and the associated regulatory and compliance requirements for investment funds and investment managers. We also have a highly active investor-side practice advising institutional investors including sovereign wealth funds on investing into a wide range of structures from traditional funds to bespoke co-investment structures and associated legal and regulatory issues. Our Asset Management Group is very international in nature. With 40 offices across the globe, many of which work regularly on asset management matters, and with many of our clients overseas, our lawyers work on a cross-border basis every day.

Role purpose

An opportunity has arisen for a Paralegal to join the Banking department on a full-time, 12-month contract basis. The role will consist of providing transactional support to the fee earners on client-related matters and knowhow and legal administrative task support to the Senior Professional Support Lawyer.

Role and responsibilities

– Supporting the Senior PSL with legal research, drafting and delivery of client bulletins and podcasts, legal filing and legal training.
– Assisting with fund closings, transfers and fund due diligence.
– Drafting standard and more complex documents, including precedents.
– Assisting with the day-to-day management of transactions.
– Preparing legal documents for execution.
– Running legal surveys.
– Answering client queries directly.
– General administrative tasks.

Who we are looking for

– Previous banking paralegal experience. Experience within funds would be an advantage
– Ability to handle multi-tasks at any one time and to prioritise between tasks
– Organised and methodical approach to work
– High level of accuracy and attention to detail
– Ability to work hard within a fast-paced environment and meet deadlines
– Positive attitude and style with clients and fee earners
– Pro-active approach and able to demonstrate initiative
– 2:1 law degree or equivalent
– Excellent communication, professionalism and interpersonal skills are essential.
– Must be a team player
Should you require additional support at any stage of the recruitment process due to a disability or a health condition, please do not hesitate to contact a member of Allen & Overy's recruitment team who will work with you to provide any reasonable adjustments as required.

At Allen & Overy, we recognise that our people are our most valuable asset, which is reflected in the wide range of benefits that are available to our employees. Some of these benefits include: our occupational pension scheme, group income protection cover, private medical insurance, mental health resources and free apps, health and wellbeing services encompassing an onsite gym, wellbeing centre and GP service, emergency back-up care support, parental and special leave, holiday entitlement increasing with length of service, holiday trading, season ticket loans and online discounts and lifestyle management services.

Allen & Overy recognises the value of flexible working and embraces hybrid working, allowing our people to work from home up to 40% of their working time. We do however remain committed to working together in person for the remaining 60% of time so that we can learn, grow and succeed together. If you would like additional flexibility we will of course consider this in line with business needs.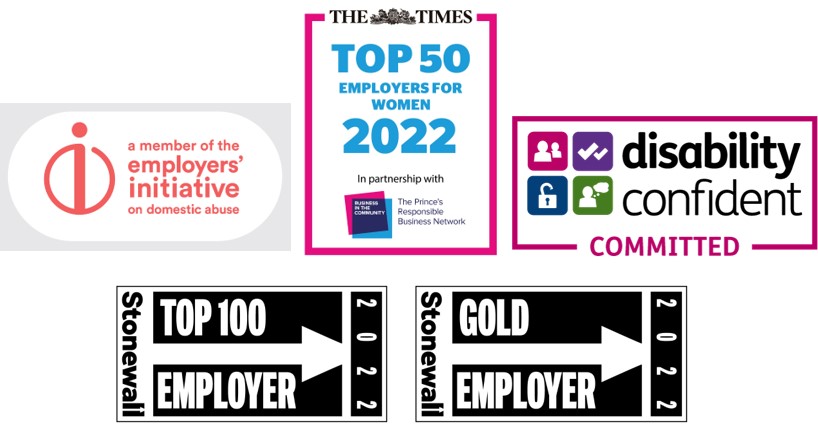 Additional information - External
Allen & Overy is a leading global law firm operating in over thirty countries. Embracing new trends and harnessing decades of experience, we've earned our place at the forefront of the legal industry. Our partners are recognised as leaders in their field and our deals and cases often make headline business news. As a result, we've developed a reputation for delivering exceptional legal solutions that not only solve our clients' challenges but exceed their expectations. By embracing new ways of thinking, integrating technology into our everyday work and putting our people first, we've become known for leading by example.
Join our team and you'll be part of a flexible, inclusive culture underpinned by openness and consistent support for one another. Our culture enables people to define their own career path based on their strengths, while our ambitious outlook ensures we continue to provide each person with opportunities to thrive. We're also committed to supporting a culture that drives diversity and inclusion. Every day, we're working hard to create an environment where you feel you can bring your authentic self to work. To be comfortable and confident to be who you are in the workplace. To feel like you belong. If you're ready to play your part in defining the future of law: It's Time.
Company
It's Time
Allen & Overy is a leading global law firm operating in over thirty countries. By turning our insight, technology and talent into ground-breaking solutions, we've earned a place at the forefront of our industry. Our lawyers are leaders in their field – and the same goes for our support teams. Ambitious, driven and open to fresh perspectives, we find innovative new ways to deliver our services and maintain our reputation for excellence, in all that we do.
The nature of law is changing and with that change brings unique opportunities. With our collaborative working culture, flexibility, and a commitment to your progress, we build rewarding careers. By joining our global team, you are supported by colleagues from around the world. If you're ready for a new challenge, it's time to seize the opportunity.
Find Us
Website

Telephone

+44 (0) 20 3088 0000

Location

One Bishops Square


London




E1 6AD




GB
Get job alerts
Create a job alert and receive personalised job recommendations straight to your inbox.
Create alert